Wayne Multiple Monitors Set-Up: From Commercial Monitoring Displays To Home PC Upgrades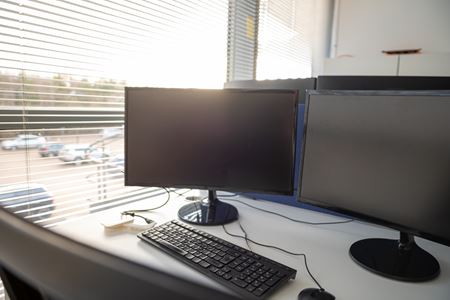 At Mobile Computer Services, we're the premier name for computer services for Wayne, and we understand the ever-evolving demands of today's digital age. From designers to financial experts, professionals across various fields in Wayne are recognizing the transformative power of using multiple monitors. It's not just about having more screen space - it's about expanding your horizons, organizing tasks more efficiently, and achieving higher levels of productivity. Are you looking for a reliable computer service in Wayne that can help you create a functional multiple monitor setup? If so, give our team of skilled professionals a call today and let us show you the kind of quality results that have helped make us the most trusted resource for multiple monitor setups and software support the area has to offer.
Being immersed in Wayne's dynamic business environment, we've witnessed firsthand the significant increase in efficiency and multitasking prowess that multiple monitors bring to the table. Our commitment to offering exceptional computer services ensures you get the best out of your digital setup, and multiple monitors are a game-changer in this realm.
Multi Computer Screen Set-Up
Expanding your digital workspace with a multi-computer screen set-up can dramatically enhance productivity and streamline tasks. Mobile Computer Services specializes in optimizing workspaces in Wayne, allowing users to seamlessly transition between applications, view data comprehensively, and immerse themselves in detailed projects. Trust us to transform your computing experience, making multitasking a breeze and boosting efficiency.
Your Go-To Experts for Software Support in Wayne
Alongside our specialty in multiple monitors, we're proud to offer unparalleled software support. Navigating the complexities of diverse software can be daunting. Whether you're dealing with installation, updates, or unexpected glitches, our team is here to provide prompt assistance. No more downtimes or frustrations with malfunctioning software; our computer services have got you covered. If you're in Wayne and need reliable software support, don't hesitate to get in touch with Mobile Computer Services today.
Frequently Asked Multiple Monitors Questions
Using multiple monitors enhances productivity by providing more screen real estate for multitasking, boosting efficiency, and allowing easy comparison of information side by side.
Using multiple monitors typically doesn't significantly affect computer performance, especially with modern hardware. However, it's recommended to ensure your system meets the requirements for smooth operation.
Tasks like video editing, programming, content creation, data analysis, and financial trading greatly benefit from the extended screen space, allowing you to see more content at once.
CALL OUR WAYNE COMPUTER REPAIR EXPERTS OR COMPLETE OUR ONLINE FORM